Since a few months, the Milanese have the chance to practice the Power Store. A new concept of Foot Locker store to live an original customer experience including Kylii Kids interactive games.
For the past few months, Kylii Kids has been working on the new Foot Locker store concept. After London and Liverpool, it's now Milan's turn to offer visitors a brand-new experience with the Power Store. The shop located on the Corso Buenos Aires unfolds on 550 m2 with two floors dedicated to the products and experiences of original purchases, plus a third entirely reserved for events in connection with partners and local artists.
A new customer experience
The challenge of this new concept is to create energy for customers through the proposed experiences. Hence the choice to install two virtual reality towers and an augmented reality games made by Kylii Kids. With each interactive solutions, families and kids will be able to live an original adventure with games that have been customized like this brick-breaking box of shoes …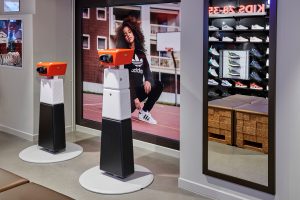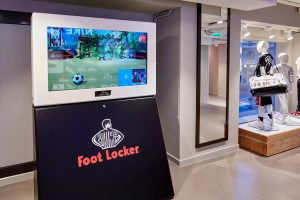 Diversify the clientele
With such innovations, the brand clearly wants to diversify and rejuvenate its customers. The concept deployed at the moment in three stores could, if it is conclusive, subsequently be deployed in other cities. And when you know that Foot Locker has more than 3,200 stores in 27 countries around the world, it's energy to distribute!