It's because flunch has been reinventing itself for years that it is regularly voted the favourite restaurant of families in France! And to continue to capture the hearts of the French people, the restaurant chain recently revised its concept. And the result? A new flunch concept that is more modern, more adapted to the expectations of families and also… more fun with new interactive Kylii Kids games for children 🙂
Hopopop, a new intergenerational flunch concept accessible to all!
Flunch is rolling out its new concept on the Roncq site, the 2nd historical flunch, which reopened its doors at the beginning of April. Brighter, the new flunch is moving away from the self-service cafeteria to the "food court" with several kitchen areas: trattoria, grill, plancha, burgers, galettes, bistro and Asia.
In addition to the culinary renewal, the restaurant is transformed into a real place of entertainment with :
– A bar at the entrance for the grown-ups but also to drink your coffee

– Themed

cubes

for families and groups (jungle, bathroom, pirate ship…)

– A games area for teenagers (baby basketball, air hockey, pinball machine, etc.)

– And finally,

a play area for children with a tubular structure and new interactive games by Kylii Kids!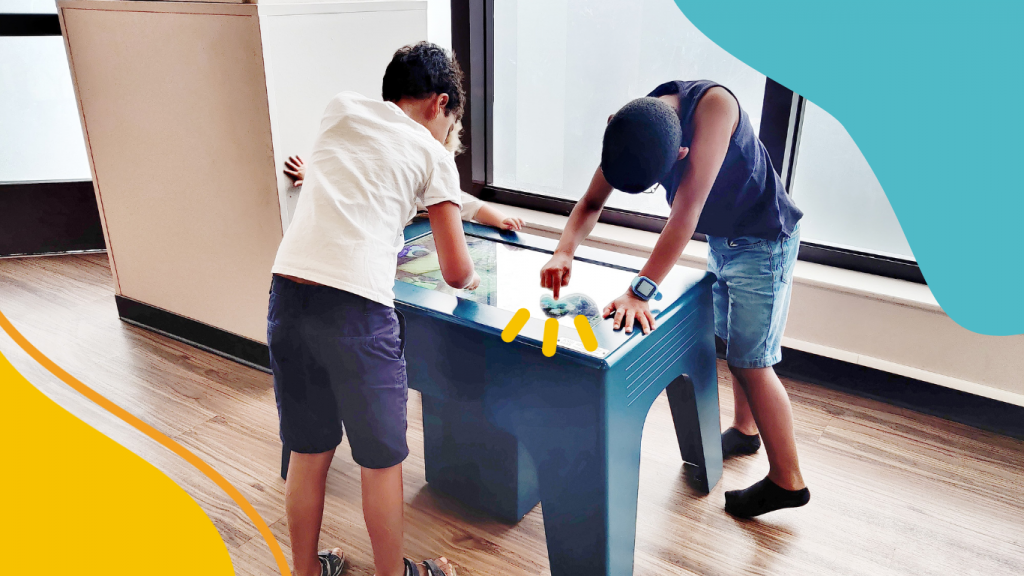 A new flunch with interactive games for kids!
What if we reinvented the experience in flunch playgrounds? This was one of the missions of Prisca Galvez-Behar – Brand Manager – Partnerships and Family Experience at flunch:
"We decided to implement new physical and digital experiences. And above all, multi-player, intergenerational experiences that encourage exchange. Content was also important to us. The Kylii Kids games are fun and the themes are intelligent. "
In the new flunch concept, children become actors of an immersive experience with the interactive wall. They discover, play, marvel and share a unique and amazing experience! The interactive wall is a simple white wall, which is transformed into a giant play area and above all… tactile, without a screen!
A second experience is available for children to share a convivial moment and it is the touch table. A collaborative game that can accommodate up to 6 players simultaneously! A new interactive activity to play together, make new friends or have fun with your parents.
Contacts Kylii Kids
Do you have a project for an interactive children's area? Would you like to test our solutions to welcome and entertain families?
Contact Kylii Kids by phone at +33 (0)3 20 93 36 10 or by email at sales@kylii-kids.com
See you soon in your children's playgrounds