The famous fried chicken restaurant has just arrived in Belgium. The second restaurant is opening around the town of Liege. After France, it is now Belgium's turn, with the KFC Rocourt kids corner, to be equipped with Kylii Kids's interactive game solutions!
KFC Rocourt kids corner : A digital and playful area
In its KFC Rocourt kids corner, the American fast-food chain "Kentucky Fried Chicken" has chosen to offer interactive, fun, educational and Made in France experiences by Kylii Kids.
In the middle of this interactive area, children can play around the Kylii Touch Table. This is a multiplayer tactile table, designed to welcome 6 children simultaneously. More than 24 cooperative and collaborative games are available on various themes.  (Ecology, health, science, fashion, nature…)
Behind the tactile table, and under the friendly eye of the famous Colonel Sanders… Children can explore virtual reality with the Kylii View tower: Virtual reality binoculars for kids. Colour a 3D world with a virtual paint spray, put on the shoes of a fireman and save a city from flames or have fun with the well-known whack-a-mole game revisited by Kylii Kids… In total, there are nearly twenty virtual reality games available and new ones to discover all year round.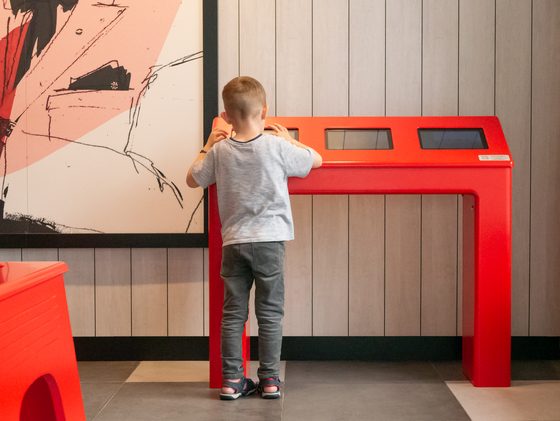 Finally, on the right, there is the Kylii Touch station which completes this area. A touch terminal for children from the Kylii Kids range with 3 individual built-in screens. There are over 70 touch games designed and developed by Kylii Kids for the pleasure of children from 3 to 12 years old.
About KFC BELUX (Belgium Luxembourg) – Projestec SA
Already present in more than 140 countries with 23,000 restaurants, KFC is opening in Wallonia. They plan to roll out both in city centres and outside with a drive-in. The company is partnered with Projestec SA (Franchise Belgium and Luxembourg)! In the next five years, they estimates that it will open at least 20 branches in Wallonia, Brussels and the Grand Duchy of Luxembourg.
[ssba-buttons]