Interview with Benjamin, Kylii Kids' Technical Manager
Hey Benjamin! You are Kylii kids' Technical Manager. Long story short, when a customer orders Kylii Kids' products, you take over (Purchasing, logistics, interventions schedule and after-sales service).
Why did you choose to join Kylii Kids?
I have known Kylii Kids for a few years now. And, I've followed its growth from the very beginning. I immediately feel that the interactive children's play areas were an avant-garde concept. I saw an incredible potential in it!
So when Johann Gobe, CEO of the company asked me to join the team, I found the idea very attractive. He was looking for an experienced and trustworthy technical manager. I was looking for the opportunity to use my knowledge and skills acquired in an innovative and fast growing company !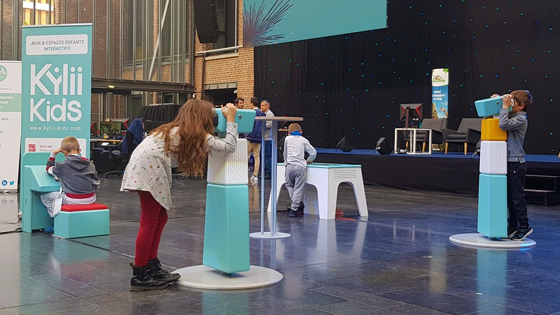 Kylii Kids Euratechnologies – Lille – FRANCE
When did you join the company ?
B. P. – I joined Kylii Kids 4 years ago. What stuck to me when I joined the team was the wonderful welcome I received ! I discovered a dynamic team with exceptional commitment and motivation.
Moreover, it was during the large deployment of children's interactive corners with Flunch (editor's note. Flunch is a family F&B and more than 80 Flunch restaurants have been equipped with Kylii Kids interactive games these last years.) We can surely say that I had to catch up quickly as soon as I arrived !
Also, when I joined the team, Kylii Kids was starting to grow fast internationally. So, I had the opportunity to take some english lessons to improve this skill upon my arrival.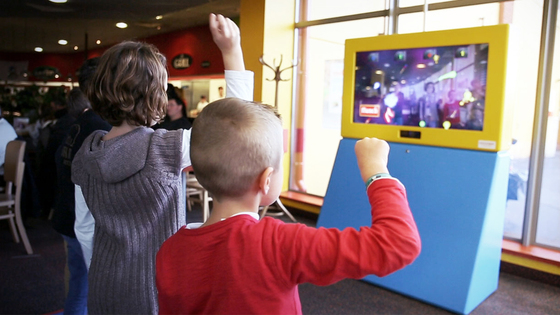 Kylii Kids Digital Kids corner at Flunch
What is your role at Kylii Kids
B. P. – Basically, when a customer orders Kylii Kids' products, "I take care of everything." I mean, I am responsible for purchasing, monitoring, equipment preparation, interventions schedule, up to the delivery and installation at the customer's establishment.
When a customer chooses to install our interactive playground solutions (Augmented Reality, Virtual Reality, Touch tables…), I make sure that all quality and procedure processes are respected. Clearly, the goal of my job is to make the customer happy and satisfied.
When we do our job well, "your start to have positive feedback on the market".
That's why we are constantly working our processes to strengthen our customer relationship. We are focused on customer care, support and technical excellence to high level quality to build a long-term and trustful relationship with our customers.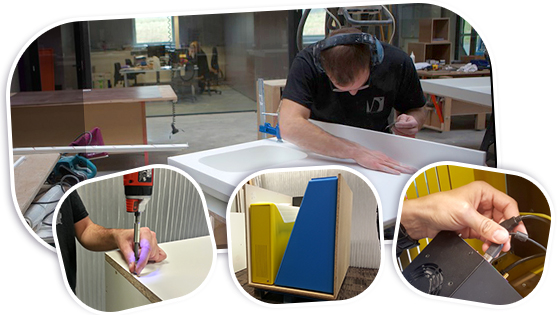 Usine de fabrication Made in France
What is your most amazing deployment experience ?
B. P. – I would definitely say the "Primark Café with Disney" in Birmingham.
Installing our interactive games in the biggest Primark in the world was really challenging!
We have deployed a large part of Kylii Kids range with different and multiple interactive gaming experiences such as augmented Reality, touch tables, interactive floor and interactive individual screens .
That was a team's project because we have personalized our games with Disney graphics. All of Kylii Kids' skills and expertise were needed, from IT development to graphics to project management… And we can be proud of the result!
Feedback is amazing. The children's area is always full. Clients are now lining up to enter the "Primark Café with Disney"!

"Primark Café with Disney©"  Birmingham, GB

Now could you tell us how you became a technical manager? What were you doing before Kylii Kids?

B. P. – I started studying technic and technology very soon, since highschool (mechanics, electronics, machining, electricity, production management). Indeed, I've always been a jack of all trades, I really like managing productions, bringing new ideas … I needed a job which moves all the time.
After being a technician in production management in a very versatile position for 14 years, I have then taken the post of production manager in a large workshop. This is a job during which I had the opportunity to manage a team of 25 people for large-scale event projects (Tour de France, Football World Cup …).
Apart from having the happiest customers in the world, what are you doing ?
B. P. – I try to spend as much time as possible with my wife and children. Because for me, family is really super important.
I am committed to supporting my sons in their activities (soccer or basketball training). I also try to take some time for myself, through sport, whether it's mountain biking or going to watch soccer games.
[ssba-buttons]
Uncategorized