While parents have a coffee and recharge their car, at the digital kids corner Gridserve, all is done to make sure the kids learn something new and have fun. Thanks to Kylii Kids UK, children discover new and exciting experiences at the first Electric Forecourt® by Gridserve in Braintree, Essex. (UK).​
Powered by clean solar energy and clever battery storage technology, the site is the first one over 100 Electric Forecourts® being built by GRIDSERVE over the next five years. In this new concept, customer experience and quality service for everyone is a key point. Kylii Kids UK worked hand by hand with GRIDSERVE to make sure the best experiences are provided to ths kids.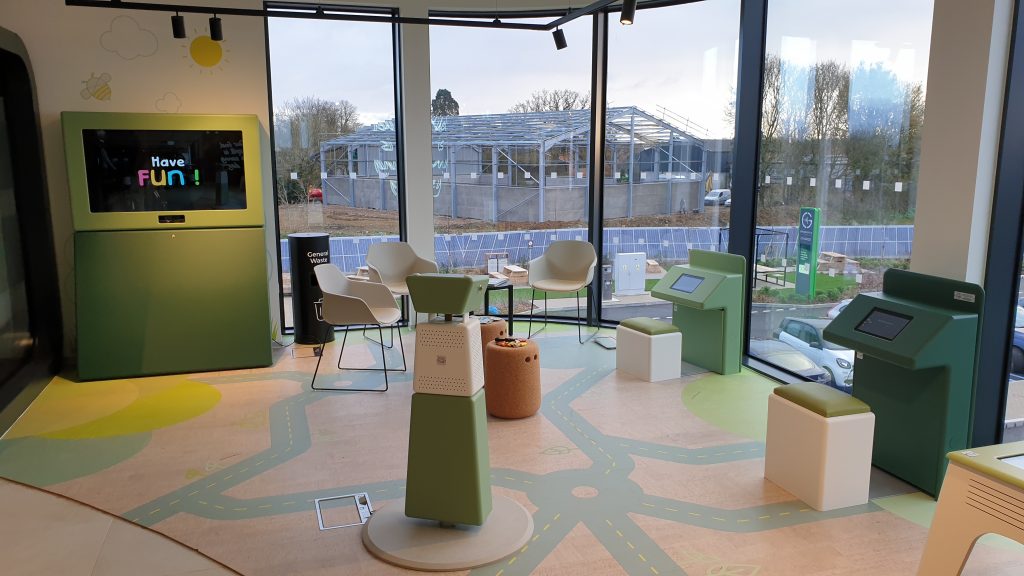 Toddington Harper, Founder and CEO of GRIDSERVE said "Charging has to be simple and free of anxiety, which is why we've designed our Electric Forecourts® entirely around the needs of drivers".
GRIDSERVE's purpose is to provide spectacular charging facilities at the same time as delivering an awesome customer experience. That's why they decided to use Kylii Kids' services, as the leader in interactive children's areas, to install the best digital kids corner in their new concept.
Digital kids corner Gridserve : A whole interactive area dedicated to children
A dedicated area has been mapped out for children by Kylii Kids UK in this digital kids corner Gridserve. In this play area, children have fun with many different interactive game experiences offering adventure and education. Two touch panels, a virtual reality tower, an augmented reality totem and a tactile table provide active and interactive activities. Kylii kids supply over 180 interactive games about several subjects such as ecology, science, healthy food…

About GRIDSERVE
GRIDSERVE's purpose is to deliver sustainable energy and move the needle on climate change. GRIDSERVE develops, builds, owns and operates solar energy and battery storage solutions for critical power infrastructure. GRIDSERVE's team have been responsible for the development, construction and operation of more than a gigawatt of solar energy and energy storage solutions, including connecting over 100 utility-scale sustainable energy projects to the UK grid. GRIDSERVE is interested in exploring new electric vehicle charging and sustainable energy opportunities, including new hybrid solar farms, Electric Forecourts® and remote power solutions.
About Kylii Kids UK
Kylii Kids UK has been the first partner to join up with Kylii Kids. They distribute Kylii Kids' interactive children's games throughout the United Kingdom. Before this exciting project with Gridserve, Kylii Kids UK had already worked on innovative concepts and large-scale projects such as the Primark Cafe with Disney concept.
You are in the UK and you have a children's space project? Please, feel free to contact the Kylii Kids UK team who will be happy to answer you!
D14 Metropolitan Park
Greenford London – UB6 8UJ – ENGLAND
sales@kylii-kids.co.uk – Tel : +44 (0)20 3488 3602